A bump in the road can be deadly to bikers, motorcyclists, scooter riders, and anyone in 2-wheeled vehicles. The need to fill potholes is greater than ever.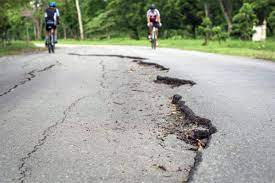 The British magazine Cycling Weekly, in a concession to the poor quality of many roads in the UK, offered up an article in 2017 on how to bicycle safely in the presence of potholes.
Among several techniques, one suggestion was to "bunnyhop," a practice that isn't for the casual, once-in-a-while biker. It takes a serious cyclist in head-to-toe spandex and a snug helmet to maneuver this: "If it's too late to swerve around it, and your feet are clipped in to the pedals, you can bunnyhop it by simultaneously pulling up on the bars and the pedals. Jerk them both at the same time and the bike will become airborne for just enough time to fly over the hole."
Rather that counting on instinct to kick in whilst encountering a surprise road crevasse, the magazine encourages cyclists to give it some practice on flat pavement.
This might make a lot of sense stateside as well as other parts of Europe, Asia, Africa, Australia, and South America, given the explosive growth of bicycling during the 2020-2021 pandemic.
Prior to the arrival of Covid-19 there already was an urban, and to a lesser degree suburban, explosion of bicycle-transportation infrastructure. Where abandoned, elevated rail lines can be turned into bike trails – the 2.7-mile Bloomingdale Trail in Chicago is one such example – the bikers might share a path with runners and pedestrians but are free of auto traffic. Similar developments on former train track lines are the Dequindre Cut (Detroit), Harsimus Stem Embankment (Jersey City, New Jersey), Maidashi ryokuchi (Fukuoka, Japan), and Promenade Plantee (Paris).
But as is more often the case, bike accommodations in streets are designated and demarcated lanes that run alongside car traffic. Those 8′-10' wide lanes are common, and now global growth in biking has been off the charts in cities worldwide: in the first nine months of 2020 alone, it was up 162% in the UK, 76% in Berlin, 34% in New York, and 32% in Barcelona. Even in car-centric places in the US bikers took to the streets more often: up 138% in Houston, and 93 percent in Los Angeles, in 2020.
Bike transport cheerleaders believe the trend that favors bicycle touring and commuting will be long lasting. Jennifer Toole, whose urban design and planning firm has 16 offices in the US and Canada, is quoted in an online article as saying that as people work more often at home, they've come to value different ways to avoid traffic. New additions to cities in the pandemic onset in 2020 include the "slow streets" that basically assert pedestrian and bicycle use over car traffic on designated byways (usually those that parallel major avenues but within quieter residential neighborhoods).
Yet all of this is taking place at a time when the nation's streets are challenged by lax or deferred maintenance. Those potholes that cause damaging bumps to cars are dangerous as well as expensive. But potholes to bicyclists – the ones who have yet to master the bunnyhop – can be deadly.
Let's hope as traffic patterns change by whichever conveyance – including e-bikes, scooters, motorbikes and motorcycles – that particular attention is paid to the life-threatening potholes in those designated non-car lanes.